Do you wish to experience the renowned hospitality in the world famous Hunter Valley Wineries Tour? The gourmet dining set against the backdrop of the Brokenback Range, the invigorating countryside, and rolling hills of vines can undoubtedly make your experience one of the most memorable ones. Often travelling becomes an issue when people are in big groups. Star Coaches understands your dilemma and offer bus hire for Hunter Valley Wineries Tour for a group of 30 passengers or more. We are one of the most trusted names across the region for offering group travel services, airport transfers, day tours, and other short or long distance transfers.
Why is Hunter Valley Wineries Tour Bus Hire is a must for all travellers?
Whether you are a tourist or a local, we can bet that there's no better way to discover the true Wine Country experience than by allowing us to take you over personally. So, the best way to explore the Hunter Valley is to hire a bus with driver for a full day out. You can prepare your own itinerary or take our local knowledge guidance to visit various wineries in the Hunter Valley region. Soak in the stories and environment of vintage style and old traditional wineries or bask in the joy of viewing the stunning architecture of the stylish boutique cellar doors boasting fresh flavours. A day in the Wine Country is a lifetime treat that can make you happier and content while reminiscing your memories.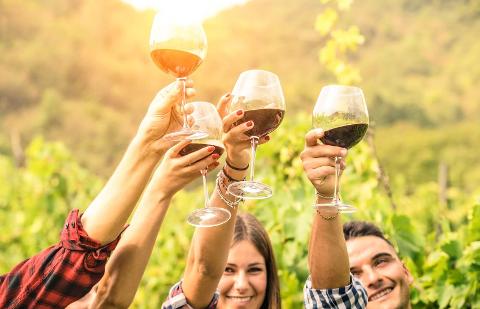 A halt at the charming boutique winery, Tamburlaine or McGuigan, your day is sorted when it starts with local produce, gourmet cheese, chocolates, and exceptional wines. What do you say? The Irish pub ambience in the Harrigans or Tyrrels is two great locations to savour fine food and relax when you are travelling in large groups. Enjoy the beauty of the magnificent wineries standing on the deck or experience the traditions of yesteryear walking amongst the 100-year-old vats. Don't miss it for anything, pack your bags, organise a Hunter Valley Wineries bus hire Tour with us to make the most out of your group travel.
Why Use Star Coaches Bus Hire Services?
Group travels are often disorganised and a headache because there are a few who reaches the venue and some who leaves behind. So, you miss out on the fun. With Star Coaches, you will never miss out anyone anywhere because we help you to travel in a group. Whether you are 30 people or more, we offer an exceptional fleet of Coaches. Our large deluxe coaches give your ultimate touring experience along with innovative safety and comfort features.
All the coaches we provide are driven by professional drivers consisting of great knowledge local and interstate, especially the Wine Country. All our drivers are chosen for their high standards of driving ability and safety. We train them further in hospitality and services to enhance your Wine Country experience.
In order to have a good time with friends and family and drink wine to your heart's content, call us now to organise for Hunter Valley Wineries bus hire tour for the day. We will take you to all the wineries and back to Sydney safely and comfortably. Make your travel experience a memorable one by hiring Star Coaches bus.